Continuing an architectural tradition which began in 1914 with the construction of the Tokyo Station, Japan still builds impressive train stations, designed to inspire the traveler.
I already discussed about the ultra-modern Osaka Station (the third busiest train station in the world), about the futurist Kyoto Station (the second largest train station in Japan) and about the impressive Nagoya Station, the tallest railway station building in the world.
Today, I would like to show you another architectural masterpiece, the Kanazawa Station, built in 2005. Combining old and modern elements, a giant glass dome with a futuristic yet traditional wooden gate, the Kanazawa Station is one of the most creative buildings I have seen.
The wooden gate is inspired by a Japanese traditional drum called tsuzumi (hence the name Tsuzumimon) and the dome's name is Motenashi Dome, which means the "Welcome Dome".
This is how Kanazawa is welcoming its visitors…
Click on photo for higher resolution: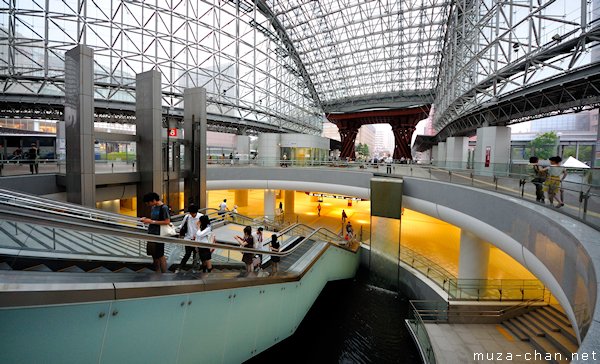 Tsuzumimon Gate, Motenashi Dome, Kanazawa Station, Kanazawa
If you want to license my photos for commercial use, please
contact me
EXIF Info:
| | |
| --- | --- |
| | Nikon D90 |
| | Lens: 8-16mm F/4.5-5.6G |
| | Focal Length: 8mm |
| | Aperture: F/7.1 |
| | Shutter Speed: 1/50s |
| | ISO Sensitivity: ISO 640 |
| | |
| --- | --- |
| | Yesterday's Japan Photo: |