Nakamise-dori, the 250 meters long street in front of the Senso-ji complex from Asakusa, Tokyo, is one of the oldest commercial venues from Japan, established around the year 1700. Destroyed many times during history, it was always rebuilt (last time after the WWII bombings). The latest renovations were in 1985, when the pavement was redone, in 1992 when the buildings were repainted and probably the most important was in 1994, when the electric cables were buried and all the poles disappeared, so the street regained its traditional look and feel.
With 89 shops, Nakamise-dori is constantly buzzing, but on celebration days the street is completely filled with people. Here's how it looks during the first days of the year, decorated for the New Year celebrations with flags, lanterns and ornaments (like this giant ema for the Year of the Dragon).
But you should not be scared by the crowd… somehow it is relaxed and orderly, a crowd like you can see only in Japan.
Click on photo for higher resolution: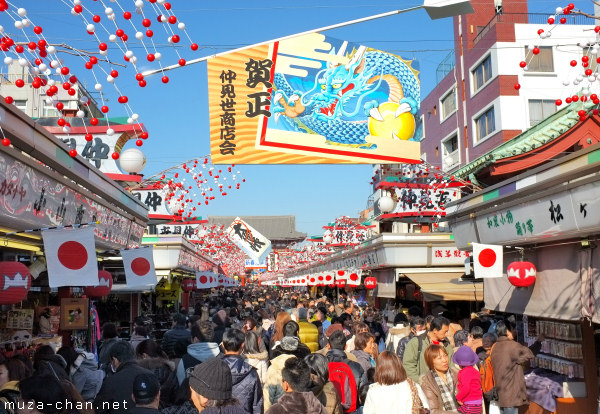 Nakamise-dori, Asakusa, Tokyo
If you want to license my photos for commercial use, please
contact me
EXIF Info:
| | |
| --- | --- |
| | Fuji X100 |
| | Lens: Fujinon |
| | Focal Length: 23mm |
| | Aperture: F/8 |
| | Shutter Speed: 1/1000s |
| | ISO Sensitivity: ISO 320 |
| | |
| --- | --- |
| | Yesterday's Japan Photo: |