Ever wondered how the important documents are stored in a Japanese Buddhist temple? There is often a dedicated building, with interior shelves, where the important sutras and the historical documents are stored. However, in some temples, the sutras are stored in a special construction, a revolving, circular repository called rinzō ("wheel repository"). Invented by the Great Teacher Fu (FuDaishi), a Chinese Buddhist monk who lived in the 6th century, rinzō is an ingenious device, an octagonal prism with a central pillar, which can be rotated easily, allowing fast access to the desired documents.
There are not many places in Japan where you can see a rinzō, because they are quite rare and from the few temples having them, fewer are allowing public access.
But you can admire a spectacular rinzō at the Narita-san Shinshō-ji Temple in Narita, in the Issaikyo-do hall, a building located right near the three-storied pagoda. Beautifully colored, one of its interesting decorations is the base, where 8 demons are sustaining the whole structure.
The rinzō from Narita-san is filled with over 2000 volumes of Buddhist scriptures and, like with the Tibetan prayer wheels, there is a custom to rotate the rinzō while saying a prayer. The tradition says that spinning it has the same effect as reciting all the prayers… but the rinzō from Naritasan is an important cultural property and, of course, you are not allowed to do that.
Click on photo for higher resolution: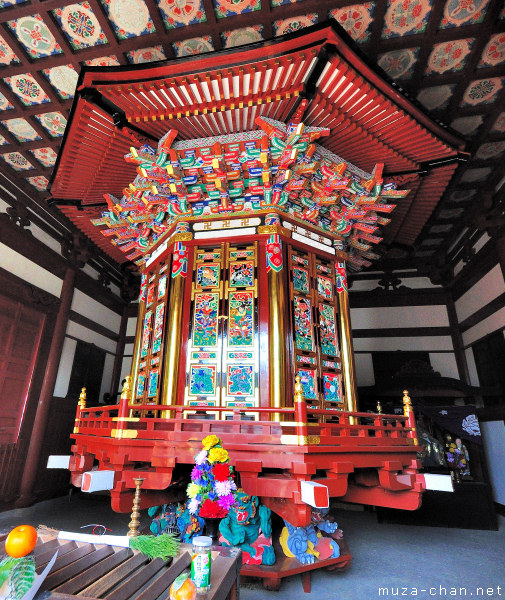 Wheel repository, Narita-san Shinshō-ji Temple, Narita
If you want to license my photos for commercial use, please
contact me
EXIF Info:
| | |
| --- | --- |
| | Nikon D90 |
| | Lens: 8-16mm F/4.5-5.6G |
| | Focal Length: 8mm |
| | Aperture: F/5.6 |
| | Shutter Speed: 1/125s |
| | ISO Sensitivity: ISO 640 |
| | |
| --- | --- |
| | Yesterday's Japan Photo: |