Wagasa 「和傘」, the traditional Japanese umbrella made from bamboo and washi (Japanese paper), is renowned not only for its delicate beauty but also for the precision open/close mechanism.
The first folding umbrellas appeared in Japan around the year 1550 (before that, the only defense against rain were straw hats and capes) and they were initially luxury items. Later during the Edo period wagasa became more accessible and people started using it not only for protection against rain or sun but also as a fashion accessory. Many ukiyo-e and vintage photos from Japan show women dressed in kimono assorted with matching wagasa.
Actually, wagasa is so popular in the Japanese tradition that it has its own… spirit. This is Tsukumogami, a kind of Japanese spirit said to appear from an object after 100 years, when… it becomes alive. The spirit of wagasa is called Karakasa Obake, umbrella ghost, a monster looking like a folded wagasa, with a single eye and a single foot wearing a geta.
The western type of umbrella was brought to Japan during the Meiji period and, over time, completely replaced the wagasa, because of the higher resistance and much lower costs.
However, there are still several workshops producing wagasa in Gifu, Kyoto, Ishikawa, Tottori and Tokushima and wagasa is still used in traditional activities like tea ceremony, kabuki theater, Japanese dances or festivals.
It is also a a great collector's item and an excellent souvenir from Japan:
Click on photo for higher resolution: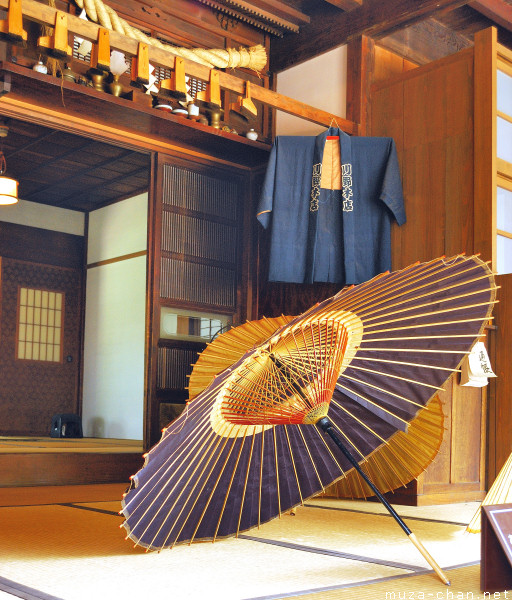 Edo Tokyo Open Air Museum, Koganei, Tokyo
If you want to license my photos for commercial use, please
contact me
EXIF Info:
| | |
| --- | --- |
| | Nikon D80 |
| | Lens: VR 18-55mm F/3.5-5.6G |
| | Focal Length: 24mm |
| | Aperture: F/5.6 |
| | Shutter Speed: 1/15s |
| | ISO Sensitivity: ISO 400 |
| | |
| --- | --- |
| | Yesterday's Japan Photo: |