A lot of Japanese customs and traditions at the beginning of the year!
Around the middle of January, a festival of fire takes place in Japan, named Dondo Yaki 「どんどやき」.
The traditional New Year decorations like Shimenawa, Shimekazari or Kadomatsu, together with the Daruma Dolls and the good luck charms used during the last year, are placed on a rack and set on fire. The burning symbolizes the breaking with the past and the desire to move forward, to progress.
I captured this event in Matsumoto - a large pyre carefully built from Kadomatsu and Daruma Dolls was set on fire, with the help of the local fire department. It burned quite spectacular, with loud cracks from the burning bamboo accompanied by enthusiastic cries of the kids gathered…
Click on photo for higher resolution: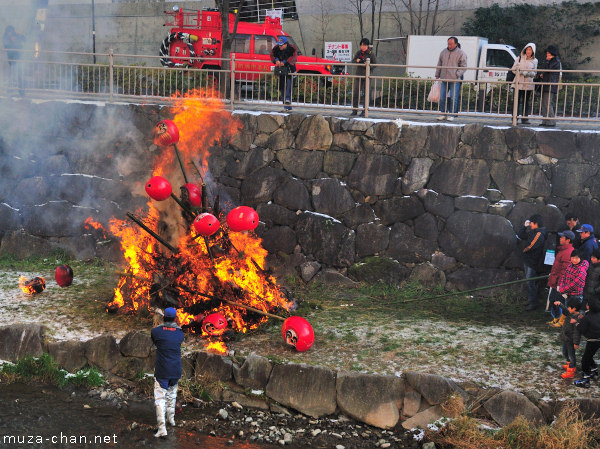 Dondo Yaki, Matsumoto
If you want to license my photos for commercial use, please
contact me
EXIF Info:
| | |
| --- | --- |
| | Nikon D300 |
| | Lens: 18-70mm F/3.5-4.5G |
| | Focal Length: 34mm |
| | Aperture: F/7.1 |
| | Shutter Speed: 1/320s |
| | ISO Sensitivity: ISO 400 |
| | |
| --- | --- |
| | Yesterday's Japan Photo: |