There are many types of Shinto shrines in Japan, each with its own specifics. Some of them can be easily identified, by architecture or decorations (like the presence of the two kitsune guardians at Inari shrines) or by name (like those called Jingu - high status shrines, having a relationship with the Imperial House of Japan).
However, the identification becomes difficult with other Shinto shrines. One of the most complicated (and beautiful at the same time) is the Kumano type - which enshrines the three Kumano mountains: Hongū, Shingū and Nachi.
Their story begins in the Kumano province (Wakayama prefecture) where, inside a sacred area, there were three shrines, located relatively close to each other, each dedicated to a different kami. During the 10th century, people started to venerate these kami together, as the three deities of Kumano (Kumano Gongen) and in time, the three shrines became known as the Kumano Sanzan.
Today, the Kumano Sanzan are the head shrines (Sōhonsha) of over 3000 Kumano shrines spread all over Japan. An important Kumano shrine, Juniso Kumano Jinja, can be visited in Tokyo, in Shinjuku Central Park. It is a national cultural asset and this is one of the preferred shrines for Shinto weddings:
Click on photo for higher resolution: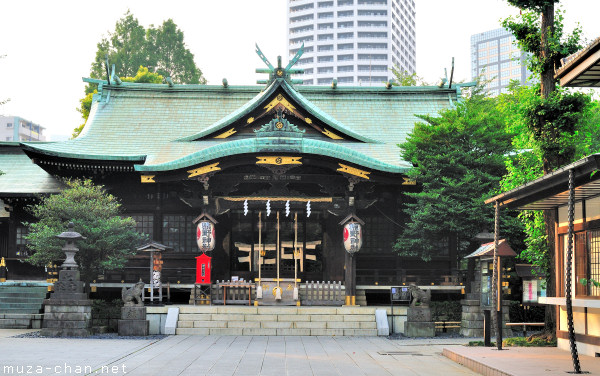 Juniso Kumano Jinja, Shinjuku, Tokyo
If you want to license my photos for commercial use, please
contact me
EXIF Info:
| | |
| --- | --- |
| | Nikon D300 |
| | Lens: 18-70mm F/3.5-4.5G |
| | Focal Length: 35mm |
| | Aperture: F/5.6 |
| | Shutter Speed: 1/320s |
| | ISO Sensitivity: ISO 400 |
| | |
| --- | --- |
| | Yesterday's Japan Photo: |