Lady Shizuka (Shizuka Gozen) is one of the most famous women from the history of Japan, known as one of the most talented shirabyōshi (female dancers performing dances for the gods, dressed as men).
Lady Shizuka was the concubine of Minamoto no Yoshitsune, and their tragic story begins at the Tsurugaoka Hachimangu Shrine in Kamakura:
After the Genpei War, Minamoto no Yoshitsune turned against his older brother Minamoto no Yoritomo. Sentenced to death, he was forced to flee and Lady Shizuka wanted to flee with him, but was taken prisoner by Yoritomo.

Yoritomo ordered her to sing and dance for him, but instead she sung a song about her lover, provoking the wrath of Yoritomo. And since she was pregnant with the child of Yoshitsune, Yoritomo ordered the killing of her child if the baby turned out to be a boy… Unfortunately the child was indeed a boy and was killed immediately after birth…
Her tragic story is remembered to this day at Tsurugaoka Hachimangu - inside the shrine's premises, near the ginkgo tree, you can find the Maiden Hall (in this photo), a ritual dance stage where dances take place every year on the second Sunday of April, honoring the memory of Lady Shizuka.
Click on photo for higher resolution: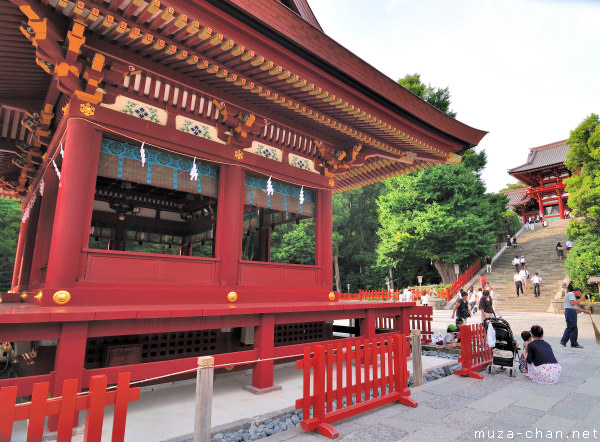 Maiden Hall, Tsurugaoka Hachimangu Shrine, Kamakura
If you want to license my photos for commercial use, please
contact me
EXIF Info:
| | |
| --- | --- |
| | Nikon D90 |
| | Lens: 12-24mm F/4G |
| | Focal Length: 12mm |
| | Aperture: F/5.6 |
| | Shutter Speed: 1/320s |
| | ISO Sensitivity: ISO 200 |
| | |
| --- | --- |
| | Yesterday's Japan Photo: |