One of the most impressive entrances to the Osaka castle is the one from North-East, accessed via a beautiful bridge crossing the castle's moat. The bridge is called Gokuraku-bashi, "Paradise Bridge", an appropriate name considering the spectacular view offered by the castle, with its golden shachi and tigers (fusetora).
Originally made of wood, the bridge was built in 1626, when the castle was rebuilt by the Tokugawa Shogunate with deeper moats and walls twice as tall as the original Toyotomi Hideyoshi construction.
But the bridge burned with the castle in 1868, during the Boshin war. The bridge we see today was rebuilt from concrete in 1965, after the castle was declared one of the "Special Historic Sites".
Click on photo for higher resolution: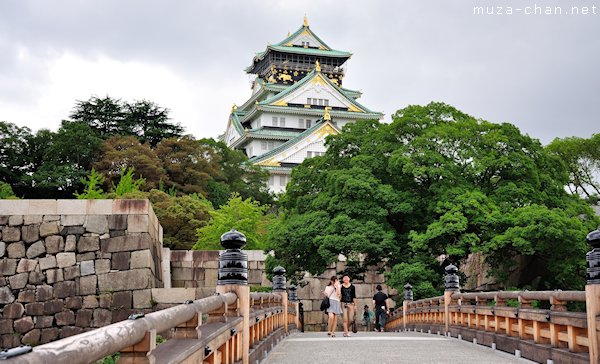 Osaka Castle, Gokuraku Bashi, Osaka
If you want to license my photos for commercial use, please
contact me
EXIF Info:
| | |
| --- | --- |
| | Nikon D90 |
| | Lens: 18-70mm F/3.5-4.5G |
| | Focal Length: 40mm |
| | Aperture: F/5.6 |
| | Shutter Speed: 1/320s |
| | ISO Sensitivity: ISO 400 |
| | |
| --- | --- |
| | Yesterday's Japan Photo: |