I like Japanese trains and I love vehicles decorated with mascots (like the streetcar with Tama the cat or the Yamanote Pokemon train), whenever I see such a vehicle I immediately photograph it.
Imagine my enthusiasm when I saw this train, decorated with not one but two character mascots - and cats to boot! I was in Hikone and the train belongs to the Ohmi Railway, a private railway company from Shiga Prefecture.
Yes, I was in Hikone, but none of these cats is the famous Hiko-nyan, the mascot of the Hikone Castle… The cat with the blue coat is Ishida Mitsu-nyan, inspired after the famous samurai Ishida Mitsunari, who led the Western army in the Battle of Sekigahara. The castle of Ishida Mitsunari is located on Mt. Sawa, approx. 1 kilometer east of Hikone Castle, so its presence on a train in Hikone is perfectly justified…
The other mascot is another samurai cat named Shimasako-nyan. And in case you're not used to the Japanese onomatopoeia, the "nyan" part is the Japanese for… a cat meowing.
Click on photo for higher resolution: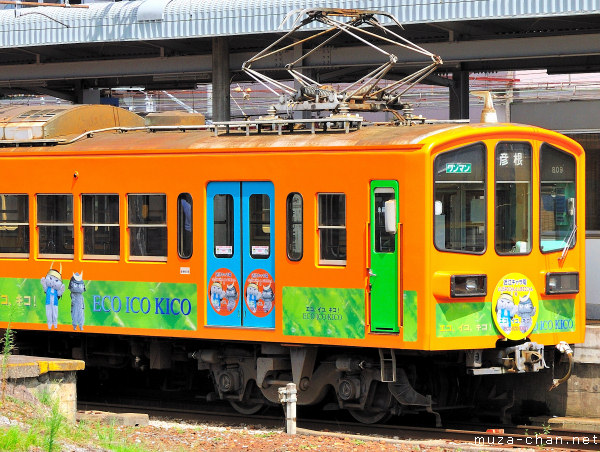 Japanese mascots train, Hikone
If you want to license my photos for commercial use, please
contact me
EXIF Info:
| | |
| --- | --- |
| | Nikon D300 |
| | Lens: 18-70mm F/3.5-4.5G |
| | Focal Length: 70mm |
| | Aperture: F/7.1 |
| | Shutter Speed: 1/800s |
| | ISO Sensitivity: ISO 250 |
| | |
| --- | --- |
| | Yesterday's Japan Photo: |