In the Japanese tradition, during the New Year's night, the Seven Gods of Luck are traveling in their ship Takarabune (meaning "treasure ship"), bringing gifts and good luck to those who believe in them. Kind of like Santa Claus, multiplied by seven!
The Japanese tradition says that if you buy during the New Year's day an image with Takarabune and place it under your pillow, you will have good luck all year… It is also said that you will get rid of bad luck and/or bad dreams by throwing the image in the water…
In Japanese, the Seven Gods of Luck are called Shichifukujin 「七福神」, from shichi 七 = seven, fuku 福 = happiness, good fortune and kami, jin 神 = god.
Here's what I think is the most beautiful representation of Takarabune, found on a billboard from Nakamise-dori in Asakusa. In the upper row from left to right: Fukurokuju (God of happiness, wisdom, longevity, virility and fertility), Hotei (God of happiness, satisfaction and abundance), Juroujin (God of longevity) and in the second row Bishamonten (God of war and warriors), Ebisu (God of good fortune, commerce and honest work), Benzaiten (Goddess of arts and knowledge) and Daikokuten (God of wealth and prosperity).
Happy New Year!
あけましておめでとう!
Click on photo for higher resolution: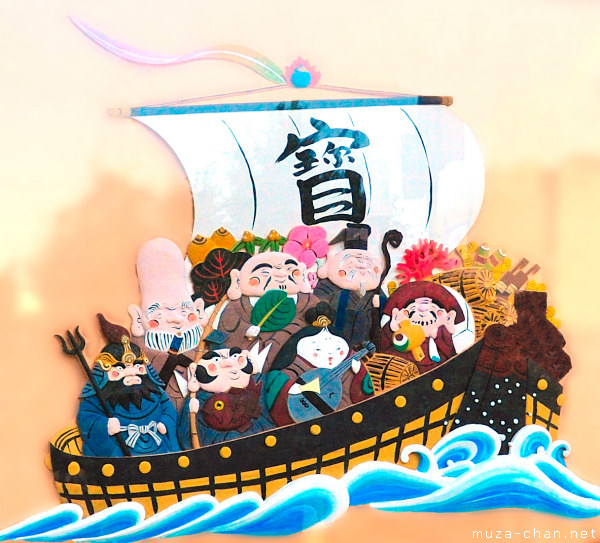 The Seven Gods of Luck (Shichifukujin)
If you want to license my photos for commercial use, please
contact me
EXIF Info:
| | |
| --- | --- |
| | Nikon D90 |
| | Lens: VR 18-55mm F/3.5-5.6G |
| | Focal Length: 18mm |
| | Aperture: F/5.6 |
| | Shutter Speed: 1/500s |
| | ISO Sensitivity: ISO 200 |
| | |
| --- | --- |
| | Yesterday's Japan Photo: |