In the Shiba neighborhood of Minato, Tokyo, between the Zōjō-ji Temple and the Prince Park Tower, an impressive gate is the soul survivor of a mausoleum destroyed during the WWII bombings.
Fortunately, the gate also survived to the recent devastating earthquake - I was able to confirm that via the high resolution imagery of Tokyo after earthquake, provided by Google.
The mausoleum was built in 1632 by Tokugawa Iemitsu, the third shogun of the Tokugawa dynasty, dedicated to his father, Tokugawa Hidetada (also known as Daitoku-in, hence the name of the mausoleum).
By night, the gate was spectacularly illuminated… but because of the recent, sad events, it is probably dark now…
Click on photo for higher resolution: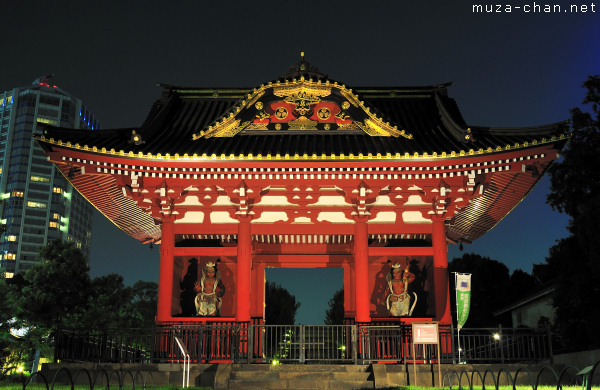 Somon Gate, Daitoku-in Mausoleum, Minato, Tokyo
If you want to license my photos for commercial use, please
contact me
EXIF Info:
| | |
| --- | --- |
| | Nikon D90 |
| | Lens: VR 18-55mm F/3.5-5.6G |
| | Focal Length: 25mm |
| | Aperture: F/7.1 |
| | Shutter Speed: 2.5s |
| | ISO Sensitivity: ISO 200 |
| | |
| --- | --- |
| | Yesterday's Japan Photo: |