1301 years ago, Nara was becoming the first capital of Japan. Today, Nara is one of the most interesting historical places in Japan, not only because of its very old buildings but also because is carefully preserving the old customs and traditions.
According to the legend, Takemikazuchi-no-Mikoto, the kami from the Kashima Shrine from the Ibaraki Prefecture, was once invited to come to the Kasuga Taisha Shrine from Nara. He then arrived in Nara riding a white deer, and since then the deer became considered messengers of kami, divine and sacred beings.
In the past, the killing of a deer in Nara was punishable by death. Today, the Nara deer are declared "Natural Monument" and about 1200 shika (deer in Japanese, written シカ or 鹿) are roaming freely through the town, to the delight of the visitors feeding them with especially made deer-crackers, shika-senbei 「鹿煎餅」.
Click on photo for higher resolution: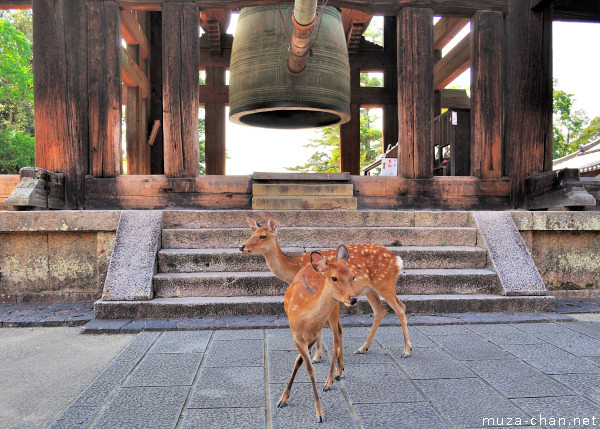 Shika deer at Tōdai-ji Temple, Nara
If you want to license my photos for commercial use, please
contact me
EXIF Info:
| | |
| --- | --- |
| | Nikon D90 |
| | Lens: VR 18-55mm F/3.5-5.6G |
| | Focal Length: 18mm |
| | Aperture: F/5.6 |
| | Shutter Speed: 1/320s |
| | ISO Sensitivity: ISO 200 |
| | |
| --- | --- |
| | Yesterday's Japan Photo: |