Last year, I started following the trails of the haiku master Matsuo Bashō in Tokyo, Fukagawa, near the Umibe-bashi bridge, the place from where Matsuo Bashō started in 1689 his journey to Northern Honshū.
South of Fukagawa, in Morishita, also nearby a bridge - Takabashi - is the place where once was the home of the poet, where he wrote, in 1686, his famous frog haiku:
furu ike ya
kawazu tobikomu
mizu no oto

an ancient pond
a frog jumps in
the splash of water
The story says that a disciple of Bashō made him a gift of a stone frog, which the poet displayed next to its house. Over time, the place of the master's home was forgotten… but amazingly, the stone frog was found two centuries later, in 1917, after a tsunami! Then, to honor the memory of the haiku master, the residents decided to build on this place an Inari shrine, where they also displayed the frog statue.
Unfortunately, the original wooden shrine and the stone frog were destroyed in 1945, during the WWII bombings, but the shrine was rebuilt and inside there's also a replica of the original frog statue…
Click on photo for higher resolution: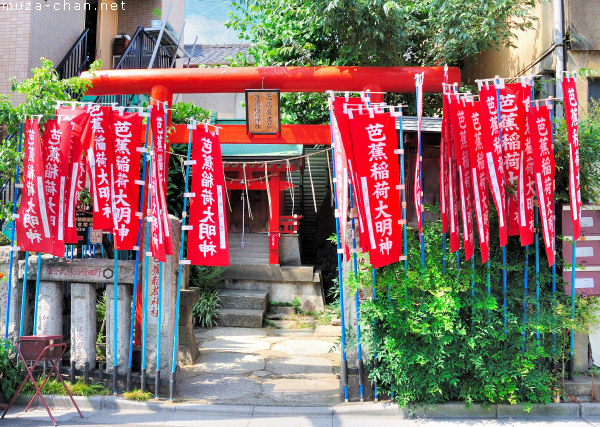 Matsuo Basho Inari Jinja, Morishita, Tokyo
If you want to license my photos for commercial use, please
contact me
EXIF Info:
| | |
| --- | --- |
| | Nikon D90 |
| | Lens: VR 18-55mm F/3.5-5.6G |
| | Focal Length: 18mm |
| | Aperture: F/5.6 |
| | Shutter Speed: 1/250s |
| | ISO Sensitivity: ISO 200 |
| | |
| --- | --- |
| | Yesterday's Japan Photo: |