Japan's new tallest building is now officially taller than the previous record holder: the Abeno Harukas building from Osaka, still in construction, has recently surpassed the Yokohama Landmark Tower (296 meters) with several meters…
Click on photo for higher resolution:
The new skyscraper is owned by Japan Railway's Kintetsu Corporation and is located near the Abenobashi Station. It will be inaugurated in March 2014.
Its name, Abeno Harukas, comes from the name of the Osaka ward Abeno-ku and from the word Harukas, which can be translated as "to brighten, to clear up" - a hint to the clear view over Osaka that will be offered by the new skyscraper…
Click on photo for higher resolution:
Abeno Harukas will be 60 floors tall, with a huge observatory occupying 3 of its upper floors, with an open-air outdoor plaza at the 58th floor, a hotel (Osaka Marriot Miyako Hotel), offices and a department store. Another noticeable feature will be the art museum which will have a rooftop garden at the 16th floor.
Here's it is, seen from the nearby Tsūtenkaku Tower…
Click on photo for higher resolution:
… and also seen from a distance, from the Osaka Prefectural Government Sakishima Building. The Tsūtenkaku Tower is the bright white pole that can be noticed on the left: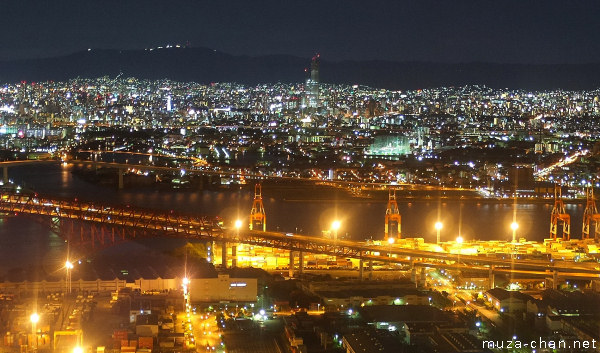 Abeno Harukas, Abeno-ku, Osaka