A friend of mine passionate about mountain scenery, asked me where to travel for some easy to reach mountain hikes in Japan, of course besides Mount Fuji. I visited a few mountainous areas and the one that impressed me most recently was Mount Kurama, located just north-west of Kyoto.
The main attraction here is Kurama-dera, a very old Buddhist temple founded in 770, located half way towards the top of the mountain, approx. 30-40 minutes away. The path starts close to the Eizan Railway Kurama Station, immediately after you pass through the main gate of the temple (in this picture).
It is a place where you can enjoy at the same time the natural beauty and the man-made beauty: the path is bordered on both sides by hundreds of red lanterns and on your way you will find a lovely pagoda, a small shrine and a beautiful Japanese arched bridge…
Travel tip: If you can't or don't want to climb on foot, for the most part of the way you can take the Kurama-dera Funicular - there will be only another 10 minutes to go by foot.
After visiting the temple, if you wish to continue the hike, from behind the main building of the temple starts a path going to the top of the mountain and to Kibune, a small town just one hour away.
Click on photo for higher resolution: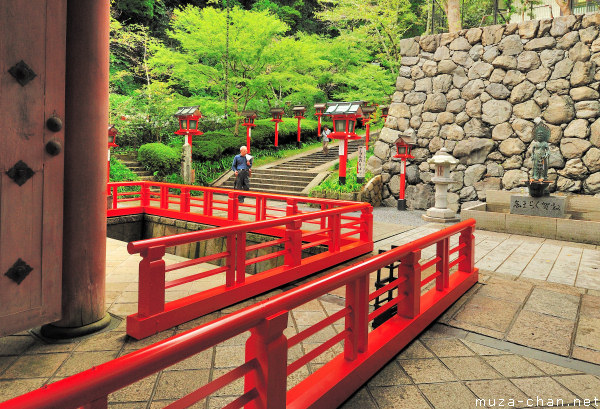 Kurama-dera, Kyoto
If you want to license my photos for commercial use, please
contact me
EXIF Info:
| | |
| --- | --- |
| | Nikon D90 |
| | Lens: 8-16mm F/4.5-5.6G |
| | Focal Length: 13mm |
| | Aperture: F/7.1 |
| | Shutter Speed: 1/125s |
| | ISO Sensitivity: ISO 320 |
| | |
| --- | --- |
| | Yesterday's Japan Photo: |