In Japan, the first historical mention of an object made by paper folding - origami (ori means "folding" and kami "paper") - was in a poem from 1680 by Ihara Saikaku, referring to the origami butterflies used to decorate sake bottles at Shinto weddings.
During the same period, according to the samurai etiquette, the gifts were decorated with noshi, which was believed to bring good luck. Noshi is an origami folded together with a piece of dried abalone (abalone is a symbol of longevity).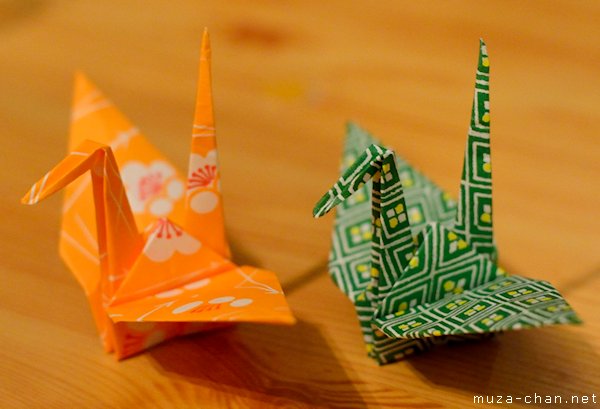 Origami cranes
Invented in China, the paper was brought to Japan during the 6th century, by Buddhist monks. Because it was very expensive, originally the paper was used only during religious ceremonies, when the offerings to the gods were wrapped in paper. At the beginning of the 7th century, the Japanese started producing their own paper, washi. Unlike the ordinary paper, made from wood pulp, washi is made from fibers, the most frequent used being kozo (paper mulberry), the bark of the gampi tree and the mitsumata shrub. Washi is thinner and more resistant than the usual paper and that makes it perfect for origami.
After the paper production grew, during the Edo period, the art of origami became a mass phenomenon, no longer controlled by the canons of etiquette. The first book about origami appeared in 1797, titled Hiden Senbazuru Orikata "The secret of one thousand paper cranes origami", and the origami crane remained until today the most popular origami model.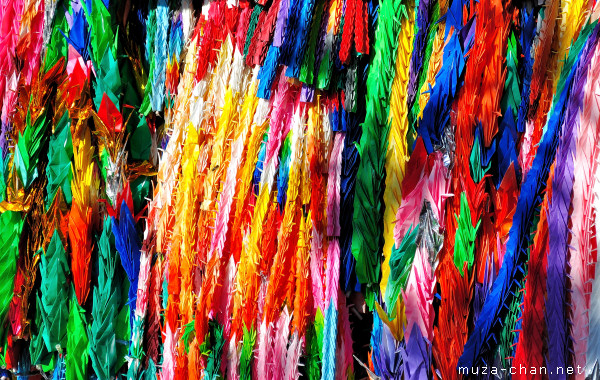 Thousand origami cranes
A thousand paper cranes is considered to be one of the strongest lucky charms and a powerful symbol of longevity, because it was believed that the crane lives 1000 years. It was customary for the father to give as a wedding gift a thousand paper cranes, so that the young couple will have 1000 years of joy and prosperity. Also, the newborn children were receiving it as a gift for long life and good luck.
Soon, people started inventing new origami models and in 1845 a new book appeared, with a large collection of origami models, Kan no mado ("Window on Midwinter"). And later, during the Meiji period, origami was introduced even to kindergartens.
But enough with the history, I promised you a great place to admire origami masterpieces: there's an excellent origami museum at the Narita Airport, located on the 3rd floor of the Terminal 1 Central building. If you're departing Japan from Narita, you may want to reserve at least half an hour to admire a series of amazing dioramas.
Many of them are representing traditional Japanese scenes:
Click on photo for higher resolution:
Here's a floats parade…
Click on photo for higher resolution:
… and a temple (it seems to be from Nara)…
Click on photo for higher resolution:
… a tea house, complete with a garden and Jizo statues…
Click on photo for higher resolution:
… another festival…
Click on photo for higher resolution:
A Japanese garden with pond and bridge…
Click on photo for higher resolution:
… actually, that's one of my favorites, look at the details:
Click on photo for higher resolution:
Then we have Noh theater scenes…
Click on photo for higher resolution:
… a Taiko drummers show…
Click on photo for higher resolution:
… and a Hina Matsuri Dolls display…
Click on photo for higher resolution:
There are also historical scenes: a group of samurai in front of a castle (Byakkotai)…
Click on photo for higher resolution:
… and this one seems to be a legend:
Click on photo for higher resolution:
Many other smaller origami models…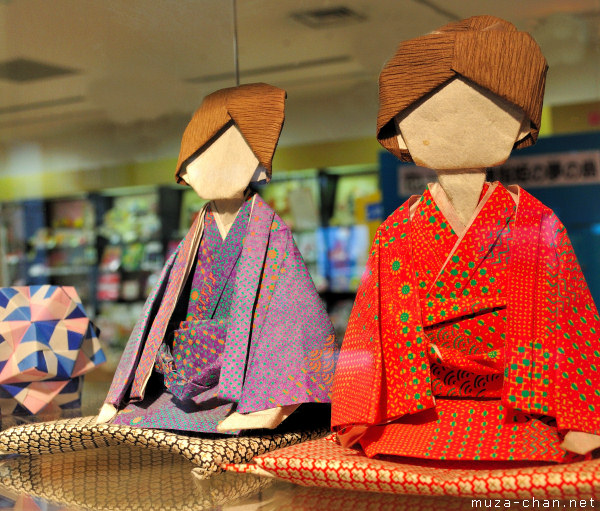 Japan Origami Museum, Narita Airport, Tokyo
… with mythological characters…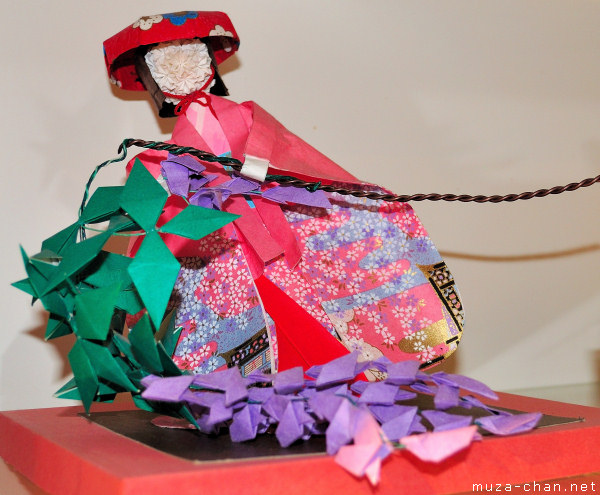 Japan Origami Museum, Narita Airport, Tokyo
… like Kasa Obake (the Umbrella ghost)…
Click on photo for higher resolution: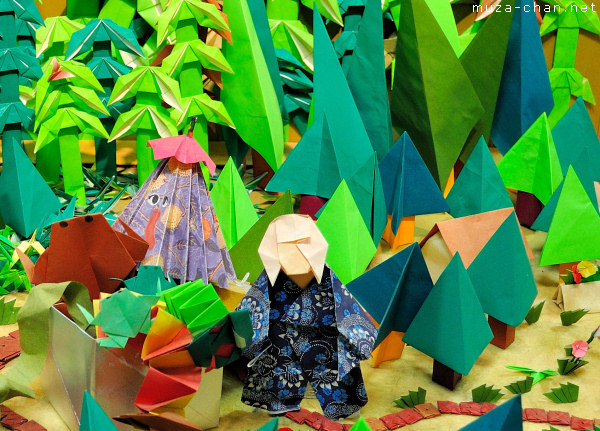 Karakasa Obake (Umbrella Ghost), Japan Origami Museum, Narita Airport, Tokyo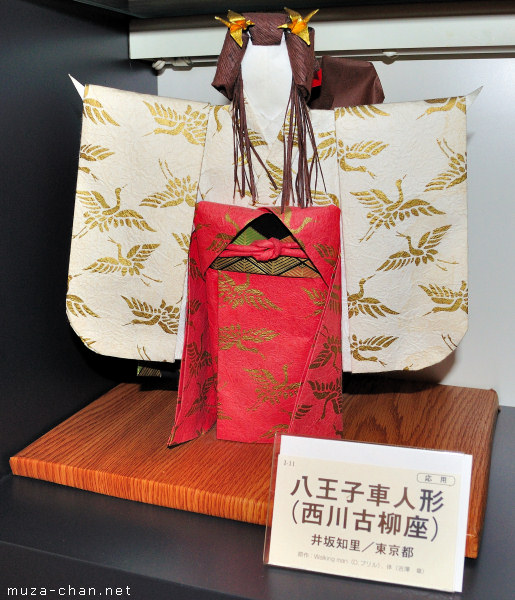 Japan Origami Museum, Narita Airport, Tokyo
There are also objects, like a kabuto (samurai helmet)…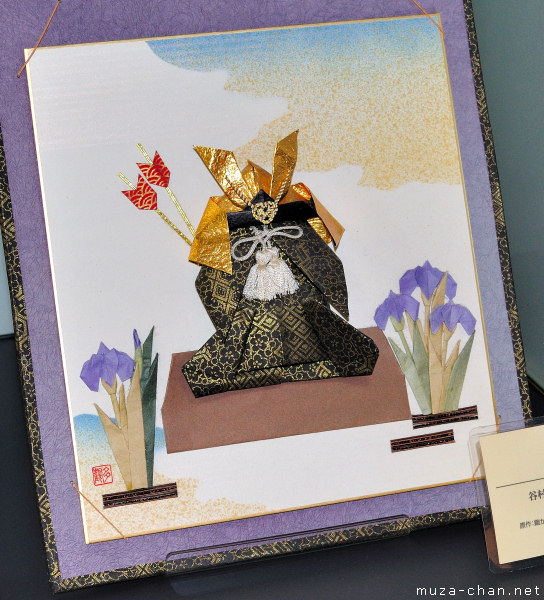 Japan Origami Museum, Narita Airport, Tokyo
… many flowers…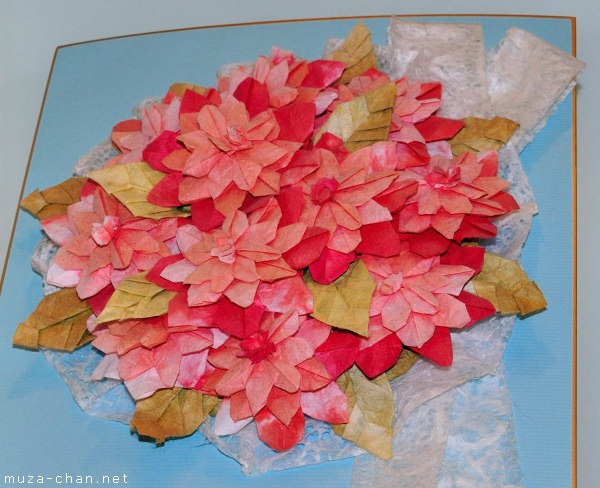 Japan Origami Museum, Narita Airport, Tokyo
… where of course, sakura is well represented: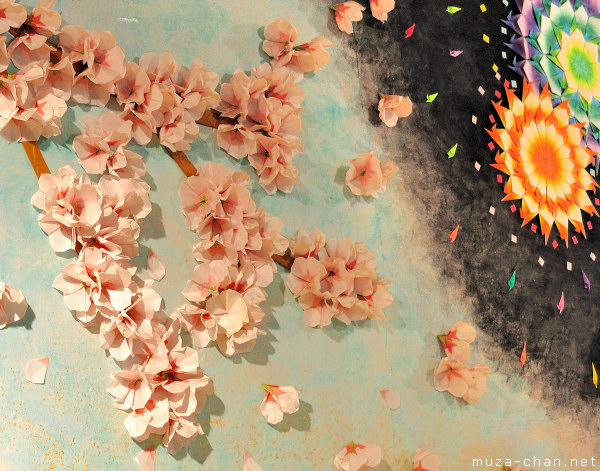 Japan Origami Museum, Narita Airport, Tokyo
Another interesting subject, the modular origami: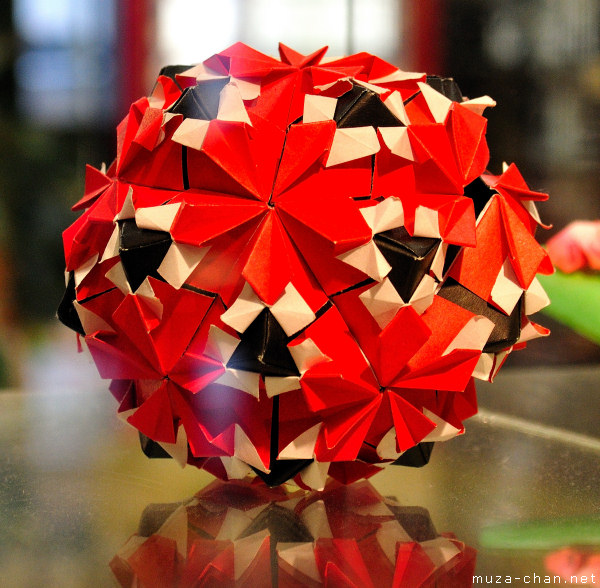 Japan Origami Museum, Narita Airport, Tokyo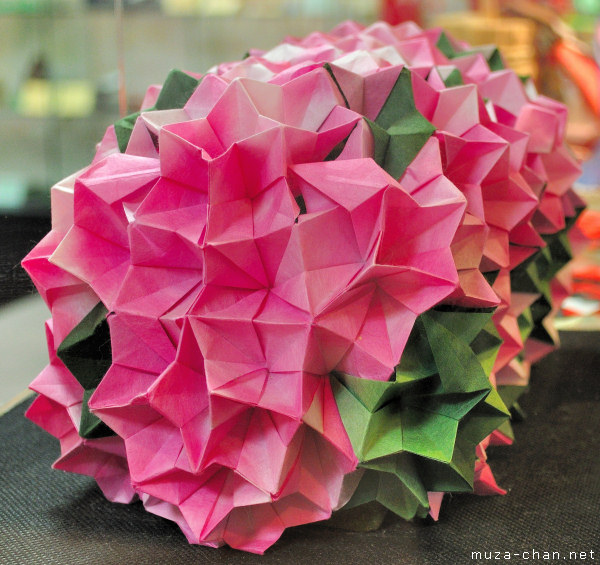 Japan Origami Museum, Narita Airport, Tokyo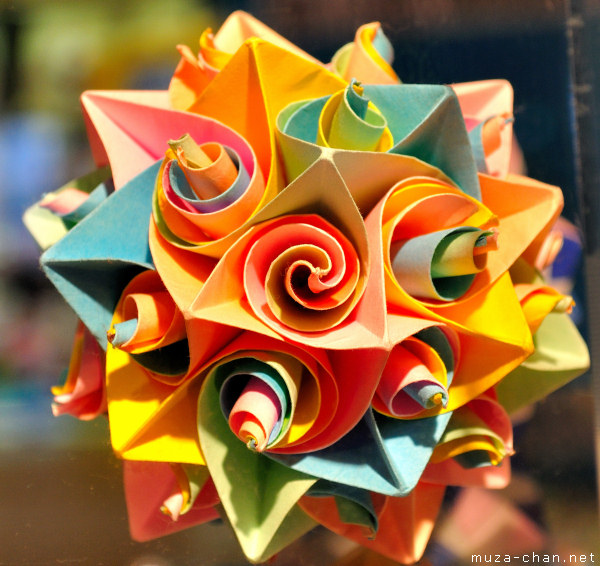 Japan Origami Museum, Narita Airport, Tokyo
There are also dinosaurs…
Click on photo for higher resolution:
…dragons…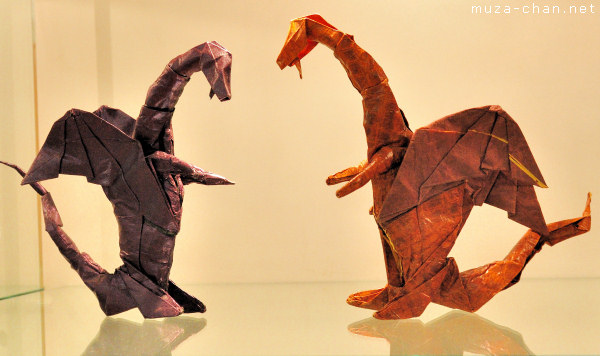 Japan Origami Museum, Narita Airport, Tokyo
… and hippos: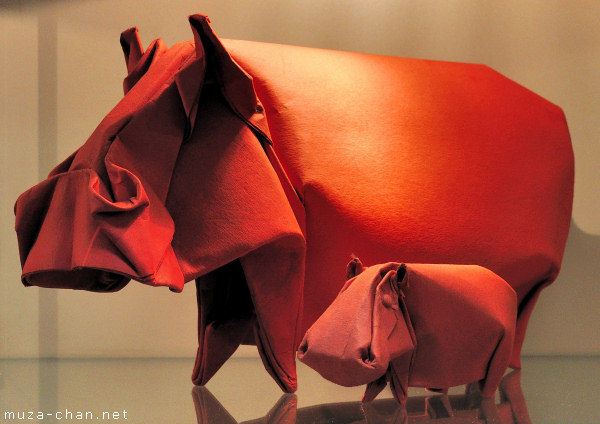 Japan Origami Museum, Narita Airport, Tokyo
The modern world is also well represented: we have the space shuttle and the lunar module: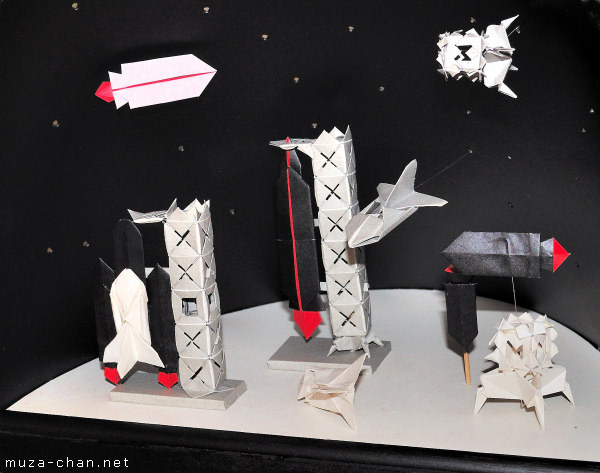 Japan Origami Museum, Narita Airport, Tokyo
And since the Christmas is close, enjoy a Christmas themed diorama, with origami Christmas trees and Santa Claus (^_^):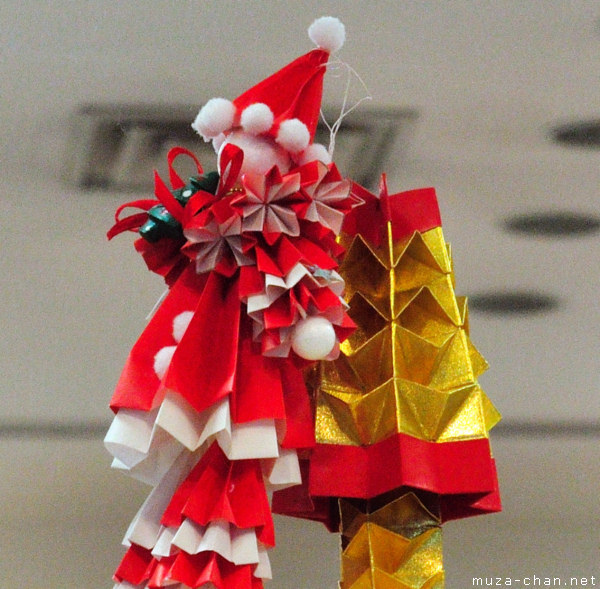 Santa Claus Origami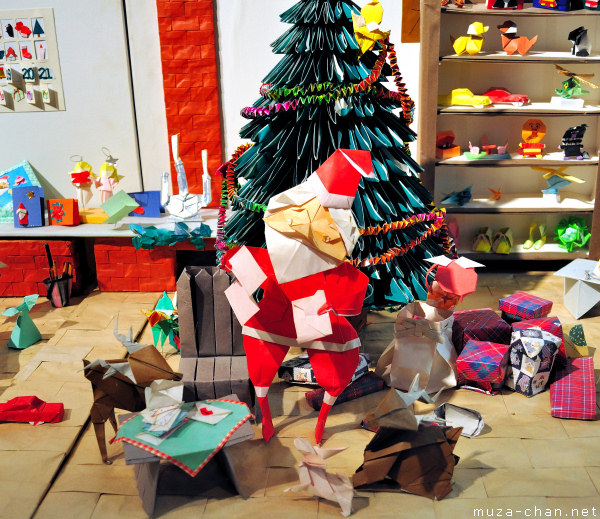 Santa Claus Origami
Finally, I want to tell you that the museum periodically changes the displayed collection, so you may enjoy different origami masterpieces on every visit to Japan…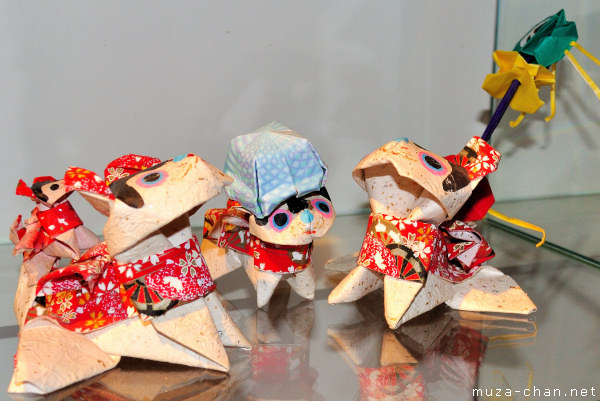 Japan Origami Museum, Narita Airport, Tokyo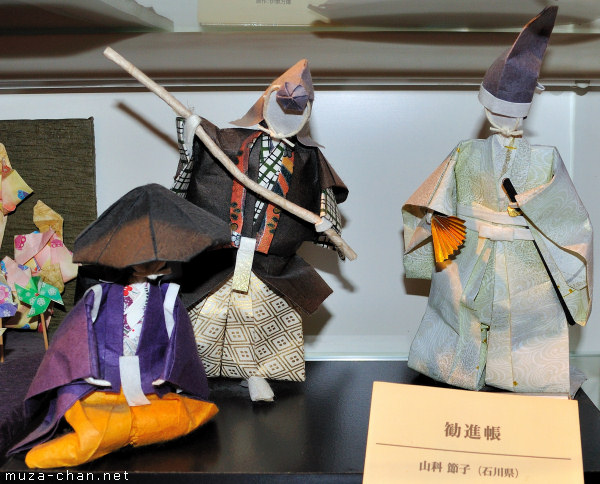 Japan Origami Museum, Narita Airport, Tokyo