Strolling on the Shichi-Fukujin route from Asakusa, I found a small architectural jewel, a shrine dedicated to Benzaiten.
The area where I found it was once a swamp with many lakes. During the Edo period, after the Yoshiwara district (the Edo's red-light district, which was located at the time in Nihonbashi), burned during the Great Fire of Meireki, this swamp was filled in and a new red-light district was built here, the Shin-yoshiwara. But one small pond was kept and, surprising for a district of pleasures, next to it was built this shrine dedicated to Benzaiten, the Goddess of river, music, art and general scholarship. The pond was almost completely covered about 50 years ago, but the place is still known as the Benten Pond…
The Benzaiten representation is really beautiful - the Goddess sits on a pink lotus, which symbolizes the experience of the Absolute Truth and is a lotus reserved for the most important deities. She plays the biwa, a traditional Japanese lute, which is also a symbol for the perfection of all arts and sciences.
Click on photo for higher resolution: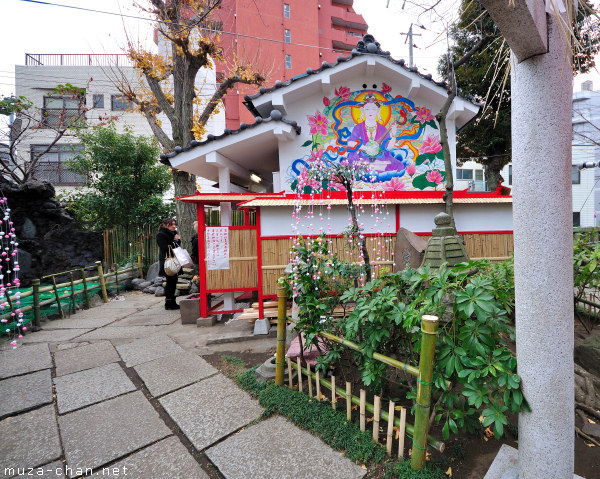 Benten Shrine, Shin-Yoshiwara, Tokyo
If you want to license my photos for commercial use, please
contact me
EXIF Info:
| | |
| --- | --- |
| | Nikon D90 |
| | Lens: 8-16mm F/4.5-5.6G |
| | Focal Length: 8mm |
| | Aperture: F/5.6 |
| | Shutter Speed: 1/125s |
| | ISO Sensitivity: ISO 200 |
| | |
| --- | --- |
| | Yesterday's Japan Photo: |