In the Ueno Park, near the Bells of Time and the Monster Lantern, there's a small hill known since the Edo Period as Daibutsu Yama (the Great Buddha Hill).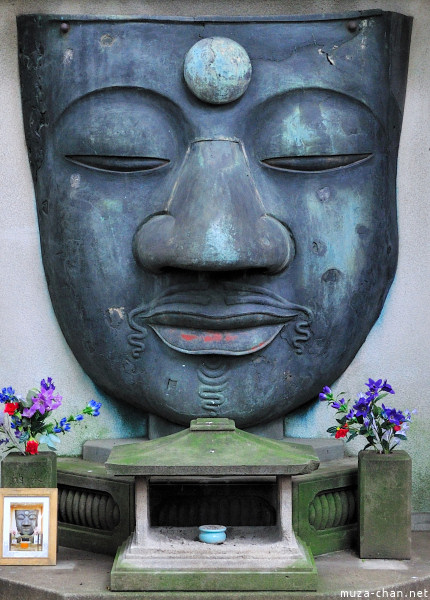 The first Daibutsu (Great Buddha) was built on this place in 1631 by the lord Hori Naoyori from Murakami, Niigata prefecture. It was a 2.8 meters statue representing a sitting Buddha. This statue was destroyed only 16 years after construction, by a powerful earthquake.
The second Daibutsu, built on the same place, was erected by a monk named Jyoun with money collected from donations and was also a seated Buddha. This statue lasted until the Great Kanto Earthquake in 1923, when it was severely damaged and its face fell off.
Fortunately, the face of Daibutsu was preserved at the Kanei-ji Temple, and we can see it today enshrined on this monument built in 1967.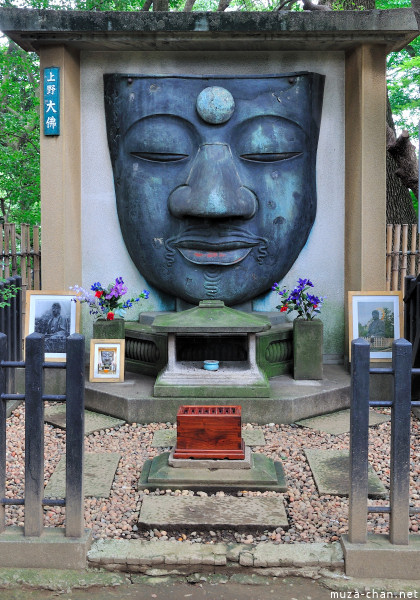 The body and the pedestal were lost forever, because during the Second World War a law called the Metal Acquisition Law ordered the delivery of all metallic goods for weapons production. Who knows how many precious objects of art disappeared during those days in the smelters…
Five years later, in 1972, the Ueno Tourist Association also built a pagoda enshrining three Buddhist images of Yakushi Nyorai, Gakko Bosatsu and Nikko Bosatsu.