If you enjoy taking a cruise, Japan offers many places to enjoy pleasant trips in unusual sightseeing ships. I already wrote about the pirate ships from Lake Ashi in Hakone and about the Santa Maria ship replica from Osaka. These are replica ships, inspired after real historical sailing ships, but in Toba, in the Mie Prefecture, I discovered a ship inspired by… a castle.
The castle is called Ryūgū-jō and comes from a classical Japanese folktale, Urashima-Tarō. The fact of having a ship modeled after a castle may seem strange, but considering how the medieval Japanese warships (atakebune) were built, like floating fortresses, the design doesn't seem so strange… Plus, the castle from the folktale was owned by Ryūjin, the dragon god of the sea, and was located under the sea.
Travel tip: The Toba Bay Cruise departs nearby the Toba Station, close to the Mikomoto Pear Island. The trip takes about 50 minutes and costs 1700 yen.
Click on photo for higher resolution: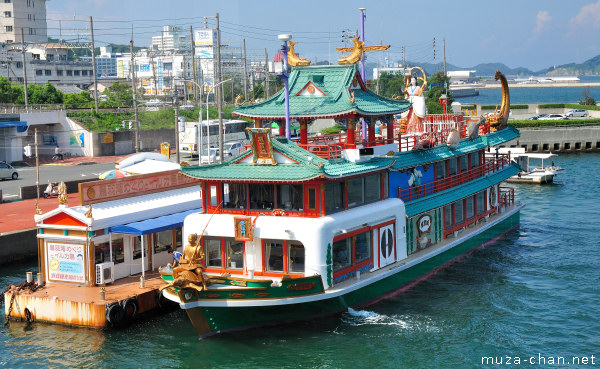 Toba Bay Cruise ship, Toba, Mie Prefecture
If you want to license my photos for commercial use, please
contact me
EXIF Info:
| | |
| --- | --- |
| | Nikon D90 |
| | Lens: 18-70mm F/3.5-4.5G |
| | Focal Length: 38mm |
| | Aperture: F/5.6 |
| | Shutter Speed: 1/1250s |
| | ISO Sensitivity: ISO 200 |
| | |
| --- | --- |
| | Yesterday's Japan Photo: |