There are many traditional good luck charms in Japan and some of them are sold especially at the end of the year, in order to have good luck during the next year… One example is the kumade, a rake for "raking in wealth and good fortune". Actually, kumade are some of the most interesting Japanese good luck charms - bamboo rakes which besides the decorative elements contain other charms - they are sort of a quintessential good luck charm.
There is a great variety of elements that can be included so there is virtually an infinite number of kumade models, the only limit being the imagination. The most common elements are kobans (Japanese oval gold coin) and treasure chests for good luck in business, otafuku (female masks used in Kyogen theater) for happiness and prosperity, statues of Shichi Fukujin and Maneki Neko, cranes (symbol of longevity in Japan) and turtles (symbol of good luck and longevity), Ema with the New Year's Chinese zodiac symbol, miniature mikoshi and many, many others.
A fun fact, it is said that the bigger the kumade, the greater the luck you will have during the next year… But there's a small problem: the next year's kumade should always be bigger… so you can imagine what will happen after several years. So, take care what you'll buy first…
Travel tip: Kumade are sold at the Tori no Ichi fairs, which are held at Otori-jinja shrines in the Day of the Rooster after the Chinese zodiac - in November. But you can find them until the beginning of the year, sold at stalls like this one, photographed at the Senso-ji Temple.
Click on photo for higher resolution: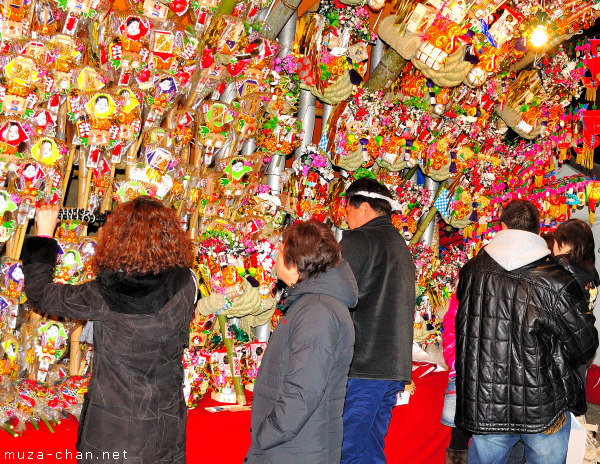 Kumade stall, Senso-ji Temple, Tokyo
If you want to license my photos for commercial use, please
contact me
EXIF Info:
| | |
| --- | --- |
| | Nikon D90 |
| | Lens: VR 18-55mm F/3.5-5.6G |
| | Focal Length: 18mm |
| | Aperture: F/5.6 |
| | Shutter Speed: 1/60s |
| | ISO Sensitivity: ISO 400 |
| | |
| --- | --- |
| | Yesterday's Japan Photo: |